THE CATALAN WATER PARTNERSHIP PARTICIPATES IN EXPOQUIMIA 2023 AT A SEA4VALUE STAND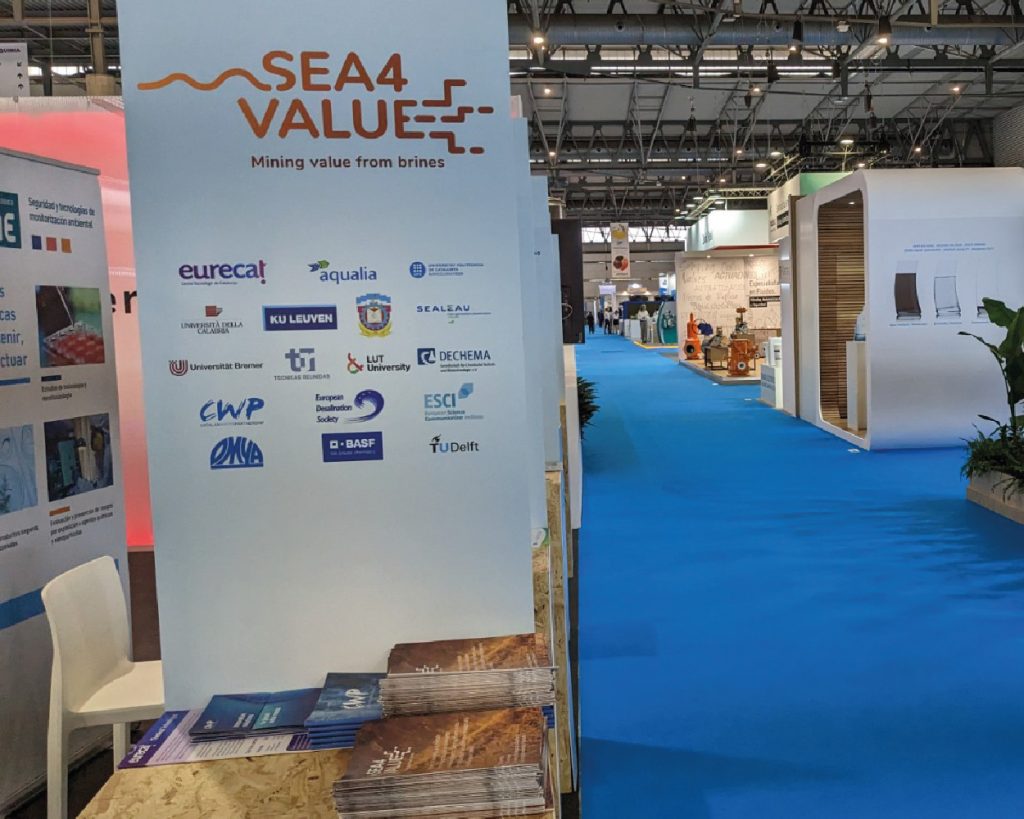 This week the Catalan Water Partnership is present at the EXPOQUIMIA fair through the Horizon 2020 SEA4VALUE project. During the 4 days that the fair lasts, we spread the word about the project to those interested who can find us at the Tech Transfer stand, together with other European projects and start-ups. In addition, last May 30, Dr. Ramon Pericet Camera of Tecnicas Reunidas explained the progress and some relevant results of the project at ACCIÓ's Tech Transfer & Innovation Pitch.
The SEA4VALUE project, coordinated by EURECAT, aims to recover minerals and heavy metals from brines, but it goes one step further: it is based on a combination of advanced separation technologies and aims to design and install a "moving lab" or mobile laboratory in two desalination plants with all components of the modular recovery of multiple elements. This should allow the validation of the technical and economic feasibility of the process.
EXPOQUIMIA is the meeting of the chemical sector in southern Europe, where the more scientific side of chemistry is promoted with a complete program of congresses, activities and conferences. Its aim is to collaborate in the promotion and dissemination of research in its two categories: the chemical area and the biotechnological area. The competition encourages researchers working in this field to promote the industrial application of these knowledge and advances, which contribute to making a leap forward in improving our quality of life.