GREAT SUCCESS OF CATALAN ENTITIES AT HORIZON 2020
The results of Catalan participation in Horizon 2020 have been a success:
762 million euros in grants to finance research and innovation activities within Catalonia (28% of the total obtained in Spain (6,114 million euros)).
Once the results of the last Horizon 2020 (H2020) calls for proposals awarded in 2021 have been compiled, the total subsidy obtained by Catalan entities amounts to 1,762 million euros (617 companies, 87% SMEs), for participation in 3,206 R&D&I activities, of which 1,395 are coordinated.
The role played by Catalonia in the Framework Programme has been reinforced thanks to the excellent results obtained.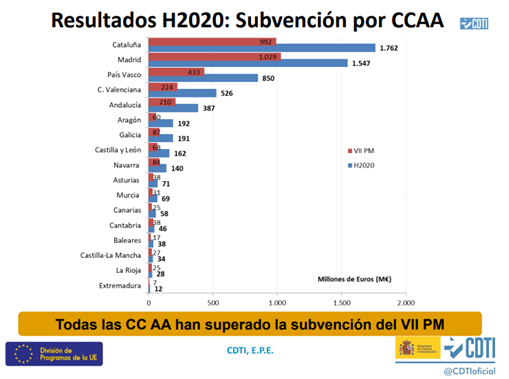 Catalonia is also a leader in these areas:
Climate Action, Environment and Raw Materials
Future and emerging technologies
Innovation in SMEs
Research infrastructures
CWP partners have played a decisive role in the Catalan positioning. The Eurecat Foundation and the Tarragona-LEITAT are in second and third place as the most outstanding Technology Centres for return in H2020.
The Universitat Politècnica de Catalunya, the Universitat Autònoma de Barcelona and the Universitat de Barcelona also stand out. The company Aqualia is also on the list of one of the 20 most outstanding companies in Spain for its return in H2020.
Spain has positioned itself as the fourth country that has obtained the most funding, with a return rate of 10.4% EU-28, behind Germany, the United Kingdom and France, far exceeding the goals achieved in the 7th Framework Programme, and the objectives set for H2020 (9.5% EU-28).
Within the Climate, Environment and First Materials sector, the subsidy obtained by Spain is 341.7M€ and is in 1st position in Water and Circular Economy (19.5 and 17.1% EU-28). In the water sector, Eurecat, Aqualia, UPC and the UAB are among the 10 entities with the highest returns.