CLOSING CEREMONY OF THE GALATEA PROJECT IN MARSEILLE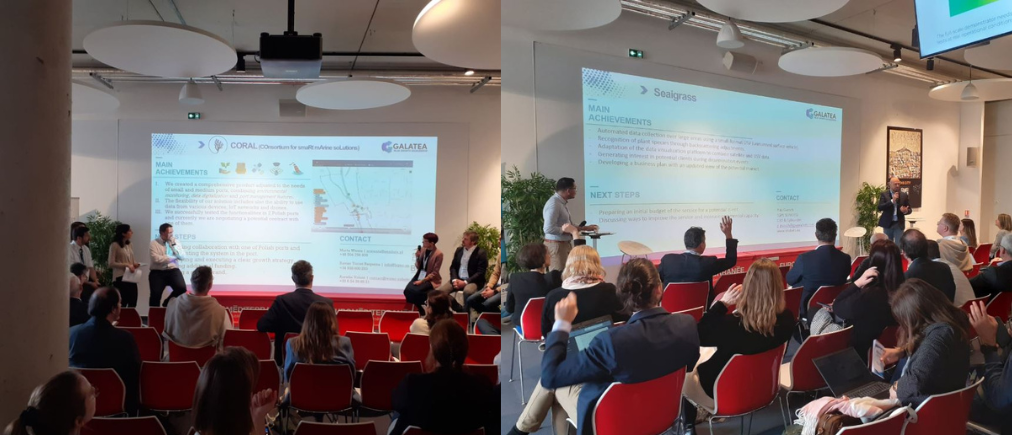 On March 7, the closing ceremony of the GALATEA project took place in Marseille. The objective of this project, which has been financed by the European program H2020-INNOSUP, has been to promote, through financing coupons, cross-sectoral and innovative projects that can respond to the challenges of the blue economy sector considering ships, ports, shipyards and maritime surveillance. During the two cascade financing calls for the project, a total of 42 SMEs from 5 countries have received financing through 23 projects that together have represented more than 2.2 million euros of budget.
During the closing event, the results of the project were presented, as well as several of the technologies developed by the SMEs financed through the coupons. There were also several round tables where two of the projects financed and executed by companies associated with the CWP were presented: the CORAL project, participated by the company B'GEO Open GIS and the SeaiGrass project, participated by the company GPA Seabots.
The public was able to attend presentations by private investors and representatives of European financing programs. The event represented a very good opportunity to map the financing opportunities for innovative SMEs, in the nexus between the water sector and the blue economy, which have a lot to do with increasingly relevant trends and needs, associated with digitization, reducing environmental impact and increasing competitiveness. It also had a session of bilateral meetings at the end that allowed the various companies to explore synergies and plan future R&D activities to respond to the needs identified by the different players in the blue economy.