THE SATWATER PROJECT SEEKS TO IMPLEMENT A PLATFORM TO MAKE A PREDICTIVE CONTROL OF THE STAGES TO IMPROVE RESILIENCE TO THE INCREASE OF SOME DUE TO CLIMATE CHANGE THROUGH SATELLITE DATA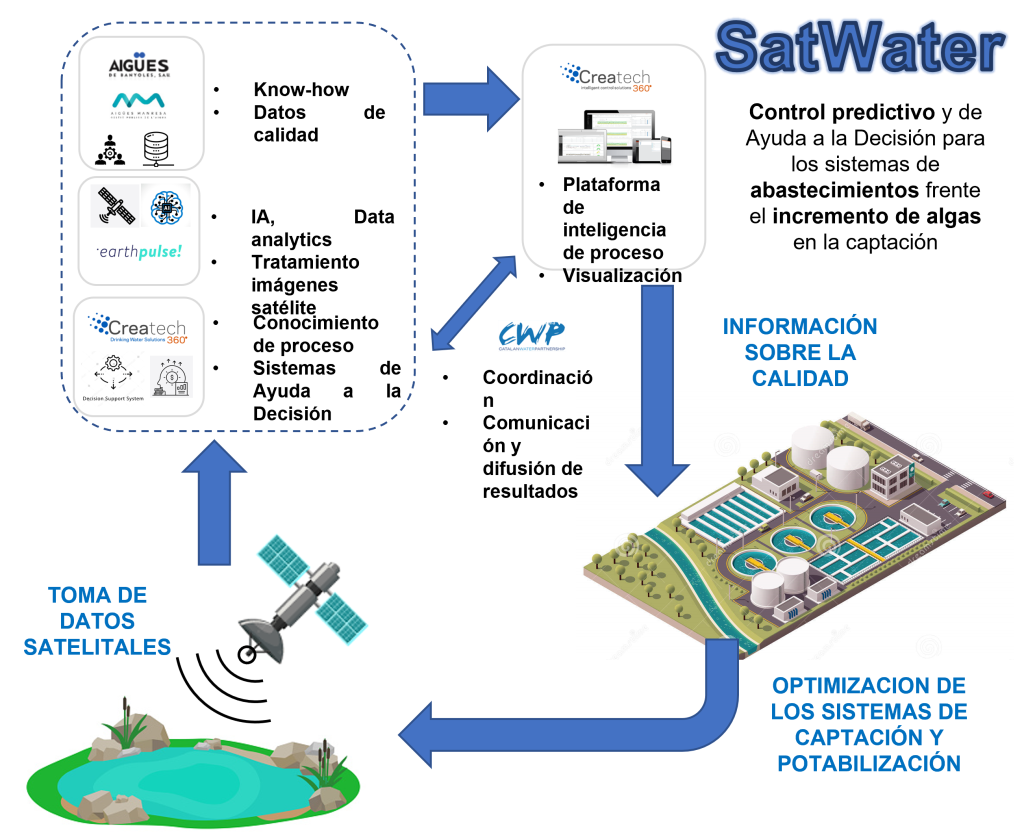 The SATWATER project is a collaborative innovation project, whose objective is to develop a digital tool to minimize the impact of the presence of algae. The project consists of three phases and in total will mobilize more than €900,000. Two water supply companies participate, Aigües de Banyoles and Aigües de Manresa and three SMEs, Eart Pulse and Createch Drinking Water Solutions and Ceratech Intelligent Control Solutions.
The problem of algae blooms is a side effect of Climate Change, IPCC projections suggest that sources of pollution will be enhanced, which in turn will facilitate the proliferation of microalgae and cyanobacteria. These algae generate toxins that are dangerous to human health. In addition, their interaction with the very disinfectants used to treat drinking water can generate dioxins, which are linked to serious health problems, including reproductive and developmental health risks. Algae can also generate operational problems such as increased operating costs, the generation of problematic by-products or effects on taste and/or smell. When there are algae blooms, DWTPs must adopt additional measures to guarantee water quality.
Through the SATWATER project, digital tools will be developed that can act as early warning systems to monitor and anticipate events that worsen surface quality and more specifically in algae.
The project uses remote sensing satellite images that cover the different areas of a reservoir or catchment in a single image and provide information on water quality in places with little or no information. This technique allows reducing the investment in instrumentation, maintenance and solving the difficulty of access that the sampling and sensorization campaigns required.
Its potential application can mean significant economic savings for operators and a guarantee of higher quality for the supply, as well as a business opportunity for SMEs that offer a technological solution.