ARTIFICIAL INTELLIGENCE SYSTEMS FOR THE DETECTION AND ADVANCED MANAGEMENT OF POLLUTION EPISODES IN EDARS (DIGEC) (SOFT-SENSORS)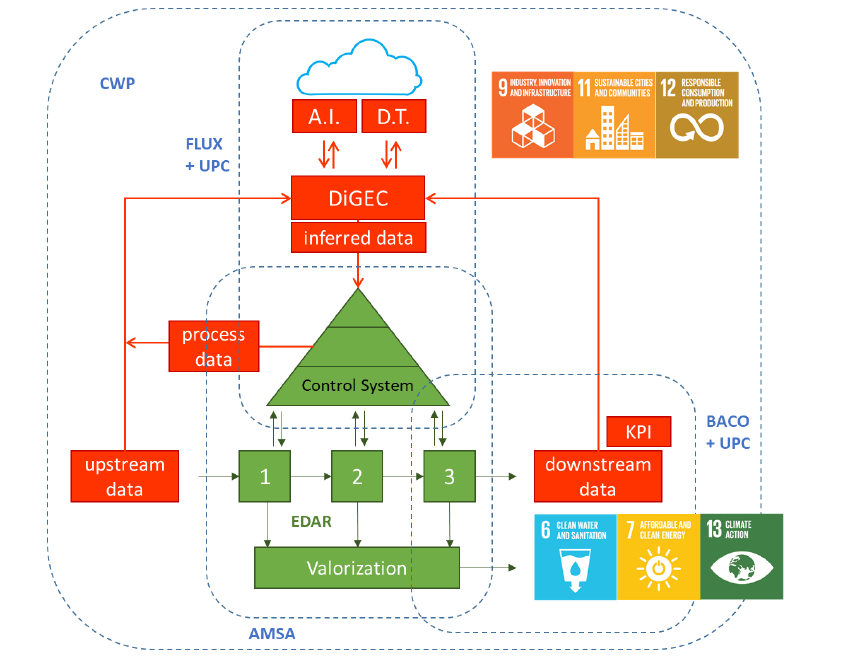 The Soft sensor project is an Innovation project, specifically a Technical Feasibility Study of innovation projects, which aims to validate the applicability of the so-called "Soft sensors" for the prediction of abnormal pollutant flows and/or loads and optimized management of the same in urban wastewater treatment plants. More specifically, the objective is to evaluate the applicability of systems for early identification of working conditions in wastewater treatment plants. The project aligns with two categories of technological trends, Big Data and Artificial Intelligence and Water Cycle Technologies. Specifically, the technologies that will be evaluated will be soft-sensor systems, or virtual sensors, which process the signals of a few sensors in computer programs, providing information on other parts of the overall process and on parameters that are not being directly monitoring the adaptive advanced control systems, based on the determination and assessment of economic and environmental objectives and, finally, a pioneering water disinfection system, which allows generating in-situ a multi-oxidant solution capable of eliminating bacteria and reduce organic pollutants.
This project will be of great use especially for the Exploitation Services of the Integral Water Cycle, which includes several points in the value chain, and which opens up the possibility of incorporating these technologies that will change the decision-making systems and current monitoring. The project will also serve to generate new R&D project proposals.
A water operator, Aigües de Manresa, BACO is a Start-Up that works in the Disinfection area, Flux Ingenieros S.L. is dedicated to process analysis and the design and integration of control systems. automatic in industrial environments, the Polytechnic University of Catalonia.